#CoverReveal #UpsideDown #AMMadden #BreakingTheRules

🔥🔥 𝑯𝑶𝑻 𝑪𝑶𝑽𝑬𝑹 𝑹𝑬𝑽𝑬𝑨𝑳 🔥🔥
𝑭𝒓𝒐𝒎 𝑼𝑺𝑨 𝑻𝒐𝒅𝒂𝒚 𝒃𝒆𝒔𝒕𝒔𝒆𝒍𝒍𝒊𝒏𝒈 𝒂𝒖𝒕𝒉𝒐𝒓 𝑨. 𝑴. 𝑴𝒂𝒅𝒅𝒆𝒏 𝒄𝒐𝒎𝒆𝒔 𝑼𝒑𝒔𝒊𝒅𝒆 𝑫𝒐𝒘𝒏, 𝒂 𝒄𝒐𝒎𝒑𝒆𝒍𝒍𝒊𝒏𝒈 𝒔𝒕𝒐𝒓𝒚 𝒂𝒃𝒐𝒖𝒕 𝒐𝒏𝒆 𝒎𝒂𝒏'𝒔 𝒂𝒘𝒂𝒌𝒆𝒏𝒊𝒏𝒈 𝒕𝒐 𝒂𝒍𝒍-𝒏𝒆𝒘 𝒅𝒆𝒔𝒊𝒓𝒆𝒔—𝒂𝒏𝒅 𝒕𝒐 𝒂 𝒍𝒊𝒇𝒆-𝒂𝒍𝒕𝒆𝒓𝒊𝒏𝒈 𝒓𝒐𝒎𝒂𝒏𝒄𝒆.
#𝑷𝒓𝒆-𝒐𝒓𝒅𝒆𝒓 𝑻𝒐𝒅𝒂𝒚!
Amazon Pre-order Links
US: https://bit.ly/UpsideDownUSAmazon
UK: https://bit.ly/UpsideDownUKAmazon
CA: https://bit.ly/UpsideDownCanAmazon
AU: https://bit.ly/UpsideDownAusAmazon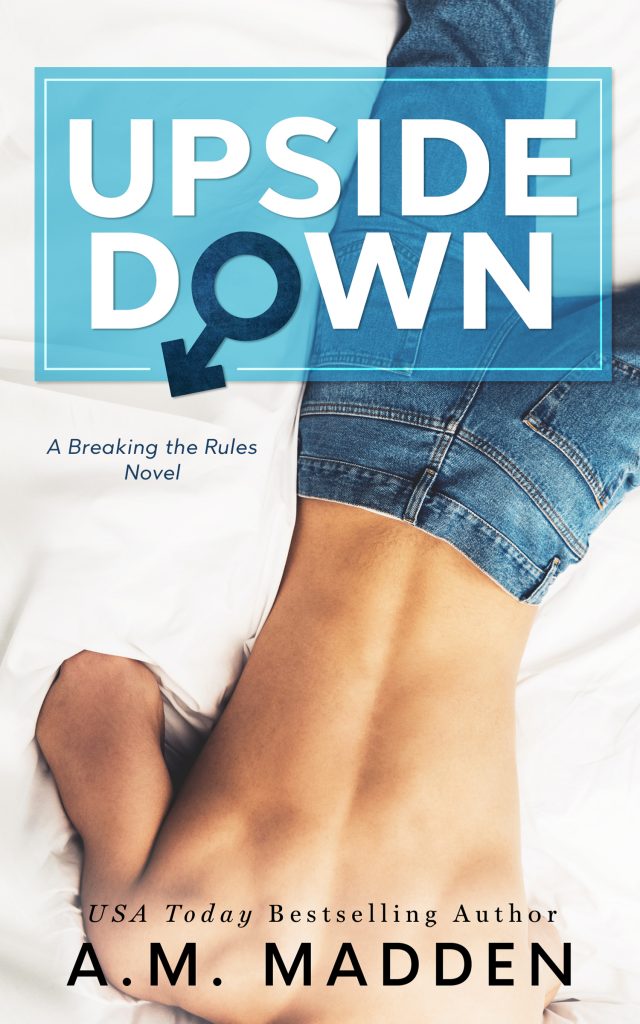 BLURB
𝙁𝙧𝙤𝙢 𝙐𝙎𝘼 𝙏𝙤𝙙𝙖𝙮 𝙗𝙚𝙨𝙩𝙨𝙚𝙡𝙡𝙞𝙣𝙜 𝙖𝙪𝙩𝙝𝙤𝙧 𝘼. 𝙈. 𝙈𝙖𝙙𝙙𝙚𝙣 𝙘𝙤𝙢𝙚𝙨 𝙖 𝙘𝙤𝙢𝙥𝙚𝙡𝙡𝙞𝙣𝙜 𝙨𝙩𝙤𝙧𝙮 𝙖𝙗𝙤𝙪𝙩 𝙤𝙣𝙚 𝙢𝙖𝙣'𝙨 𝙖𝙬𝙖𝙠𝙚𝙣𝙞𝙣𝙜 𝙩𝙤 𝙖𝙡𝙡-𝙣𝙚𝙬 𝙙𝙚𝙨𝙞𝙧𝙚𝙨—𝙖𝙣𝙙 𝙩𝙤 𝙖 𝙡𝙞𝙛𝙚-𝙖𝙡𝙩𝙚𝙧𝙞𝙣𝙜 𝙧𝙤𝙢𝙖𝙣𝙘𝙚.
I've always been known as the hopeless romantic … the nice guy … the sweetheart.
Everything in my life supported this persona. My students loved my easy personality. My colleagues admired the way I handled myself in the classroom.
But something was always missing.
Like so many relationships before it, my current attempt at love felt like a dead end. When she gave me an ultimatum, I couldn't promise to give her what she wanted.
So, she ended it.
Explaining another breakup to my family was the last thing I wanted. But doing it on a luxury yacht at my brother's wedding lessened the hardship.
I never imagined that trip would change everything… and I certainly wasn't prepared for him to change everything.
Upside Down is a sister's best friend, straight-to-gay stand-alone romance that contains adult content.
Goodreads TBR: bit.ly/UpsideDownbyAMMadden
Amazon Pre-order LinksUS: https://bit.ly/UpsideDownUSAmazonUK: https://bit.ly/UpsideDownUKAmazonCA: https://bit.ly/UpsideDownCanAmazonAU: https://bit.ly/UpsideDownAusAmazon
TEASER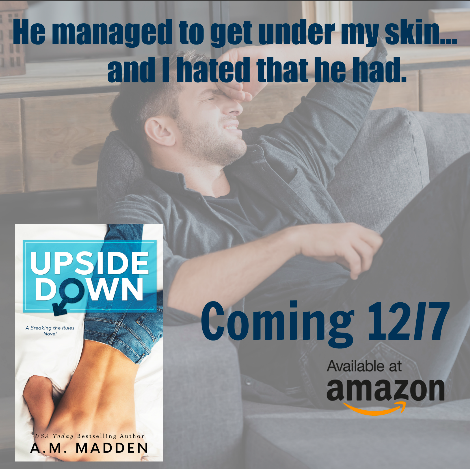 ABOUT THE AUTHORA USA Today bestselling, award-winning author, A. M. Madden is also a Jersey girl whose addiction to romance started at twelve after reading Judy Blume's Forever. As a self-proclaimed hopeless romantic, she truly believes that true love knows no bounds.In her books, she aspires to write fun, sexy, realistic love stories that will stay with you long after you turn the last page. She creates realistic characters and believes there's no better compliment than when readers feel they know the characters personally.When not writing, she's busy being a wife to her soul mate, and a mother to two boys who she believes are the most handsome men on earth. She loves to cook, hates to bake, and dreams about living at the beach someday.AWARDS:2016 eLit Gold Medalist – Best Romance Ebook – The Shortstop 2016 IPPY Silver Medalist – Best Romance Ebook – The Shortstop2018 Book Excellence Finalist – Finding Mr. Wrong (co-written with Joanne Schwehm).2019 Book Excellence Finalist – Scoring Mr. Romeo (co-written with Joanne Schwehm).Sign up for A. M. Madden's newsletter at www.ammadden.com to get up-to-date information on new releases, cover reveals, and exclusive excerpts.AUTHOR LINKSWebsite | BookBub | Facebook | Twitter | Instagram | Goodreads | Email | A.M.'s Mad Reader Group